Made To Order
Diamond Initial Necklace (3 sizes)
Regular price
$1,300 AUD
Sale price
$1,000 AUD
Unit price
per
Sale
Sold out
Not sure what size? Try our
Size Guide
to find the perfect fit
About this piece
18k White Gold, adjustable length 40, 42 & 45cm
Choose from Natural Mined Diamonds or Lab Grown Diamonds, both F Colour VS1-VS2 Clarity
Large Initials 8mm height, approx. 0.10ct
Medium Initials 6.5mm height , approx. 0.08ct
Small Initials 5mm height, approx. 0.05ct
Total carat weight is dependent on the letter and size
Delivery & Production
This piece is individually made and handcrafted in Australia.
Made To Order: 4-5 weeks from purchase to delivery. Please get in touch with our team if you need your item sooner.
Ready To Ship: Dispatched in 1-2 Business Days


Want to design your own unique ring to your specifications? We've got you covered. Enquire here for a custom quote or book a free consultation here.
We accept
Need some help?
The Latest at Diamond Elite
Stay in the know with new collections, offers and our learning posts.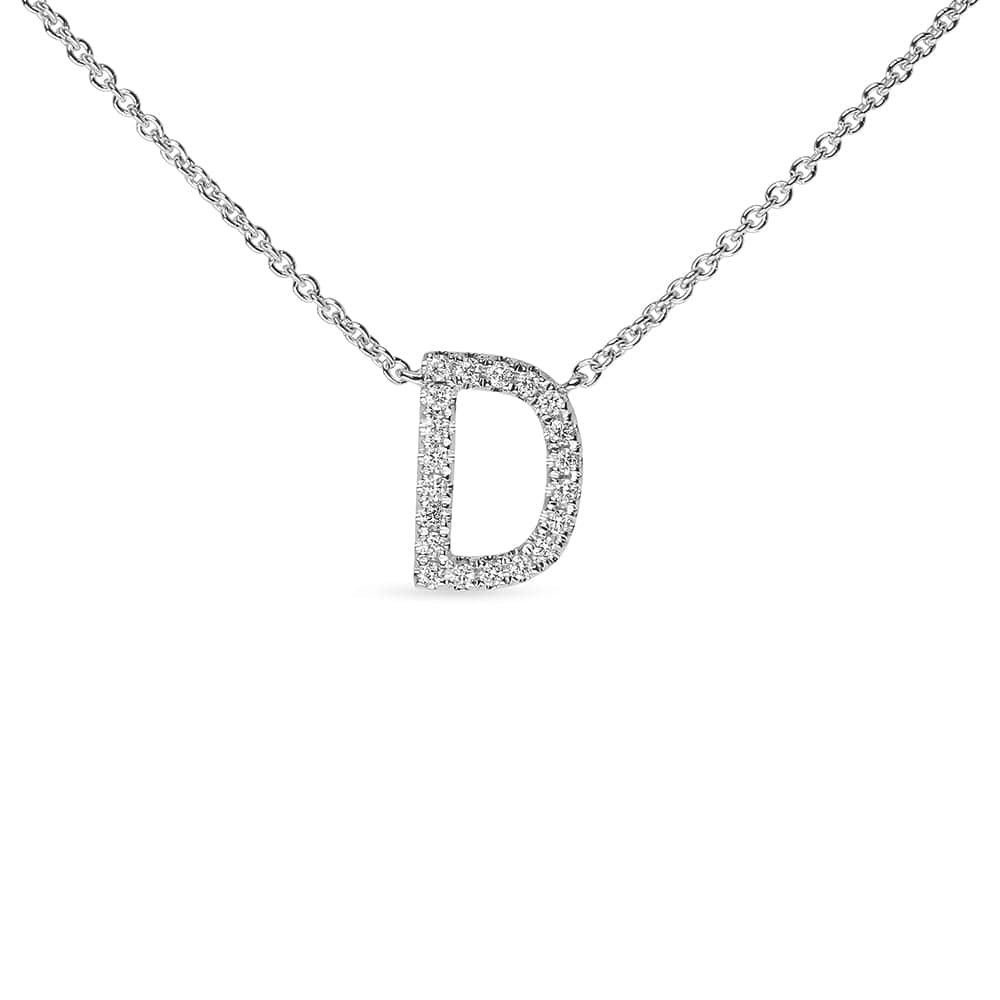 What are diamond letter necklaces?
Diamond letter necklaces are personalised jewellery pieces that feature a diamond-encrusted pendant in the shape of a letter or initial. They are a stylish and meaningful way to showcase your own initial or the initial of a loved one.
What sets Diamond Elite's diamond letter necklaces apart?
Diamond Elite is Sydney's premier diamond jeweller based in Chatswood.We offer stunning diamond letter necklaces made with exceptional craftsmanship and elegant designs. Diamond Elite is renowned for their competitive prices and exceptional service with over 570+ 5-star reviews.
Can I customise a diamond letter necklace at Diamond Elite?
Absolutely! Diamond Elite specialises in custom jewellery design. Their expert team can help you create a personalised diamond letter necklace, allowing you to choose the letter, base metal material, diamond quality, size and other design elements to make it uniquely yours.
What metal options are available for diamond letter necklaces?
Diamond Elite offers a range of metal options for diamond letter necklaces, including 18k Gold, 18k White Gold and 18k Rose Gold. You can select the metal that best suits your style and preferences.
How can I ensure the quality of the diamonds in a diamond letter necklace?
Diamond Elite is committed to exceptional quality. Each diamond used in our letter necklaces are handpicked by our expert gemologists for their superior brilliance, colour, and clarity. All our diamonds are colourless and VS Clarity to ensure that you receive a necklace of extraordinary beauty and sparkle.
Can diamond letter necklaces be customised with different sizes, fonts or styles?
Yes, Diamond Elite can work with you to create a diamond letter necklace in various sizes, fonts or styles. They can help you choose a font that best represents your personal taste and complements the design of the necklace.
Are diamond letter necklaces suitable for gifting?
Absolutely! Diamond letter necklaces make a thoughtful and cherished gift for birthdays, anniversaries, or special occasions. Personalised with the initials of a loved one, they are a beautiful symbol of affection and connection. They are a fantastic gift for a loved one no matter their age.
Can I read reviews from previous customers about Diamond Elite's diamond letter necklaces?
A: Yes! Diamond Elite has received over 570+ 5-star reviews from satisfied customers. These reviews demonstrate the trust, satisfaction, and exceptional quality of our diamond jewellery.
Where can I buy Diamond Initial Necklaces in Sydney?
Diamond Elite's showroom is conveniently located in Chatswood Westfield in Sydney's north. Contact our team today to schedule an appointment to view our collection of diamond letter necklaces.